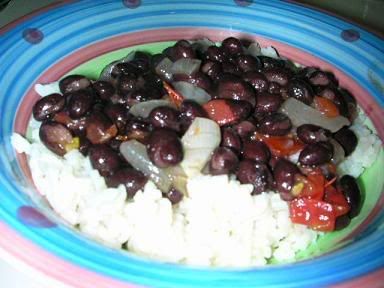 Bring to a boil: 1 T of extra virgin OO, 1/2 c of water, and about 1 t of Adobe Seasoning. Stir in 1 chopped tomato and 1/4 chopped white onion, return to a boil. Stir in 1 can of black beans (do not drain). If you like your beans thicker, blend another can of black beans and combine. Stir every few minutes.

Cook 1/2 c of long grain rice. Let beans cook on med-low heat until rice is done. Then, pile the beans on top of the rice - and enjoy!

*** This meal is Diabetic/IR/PCOS compatible.